What services do Gaille Reports offer?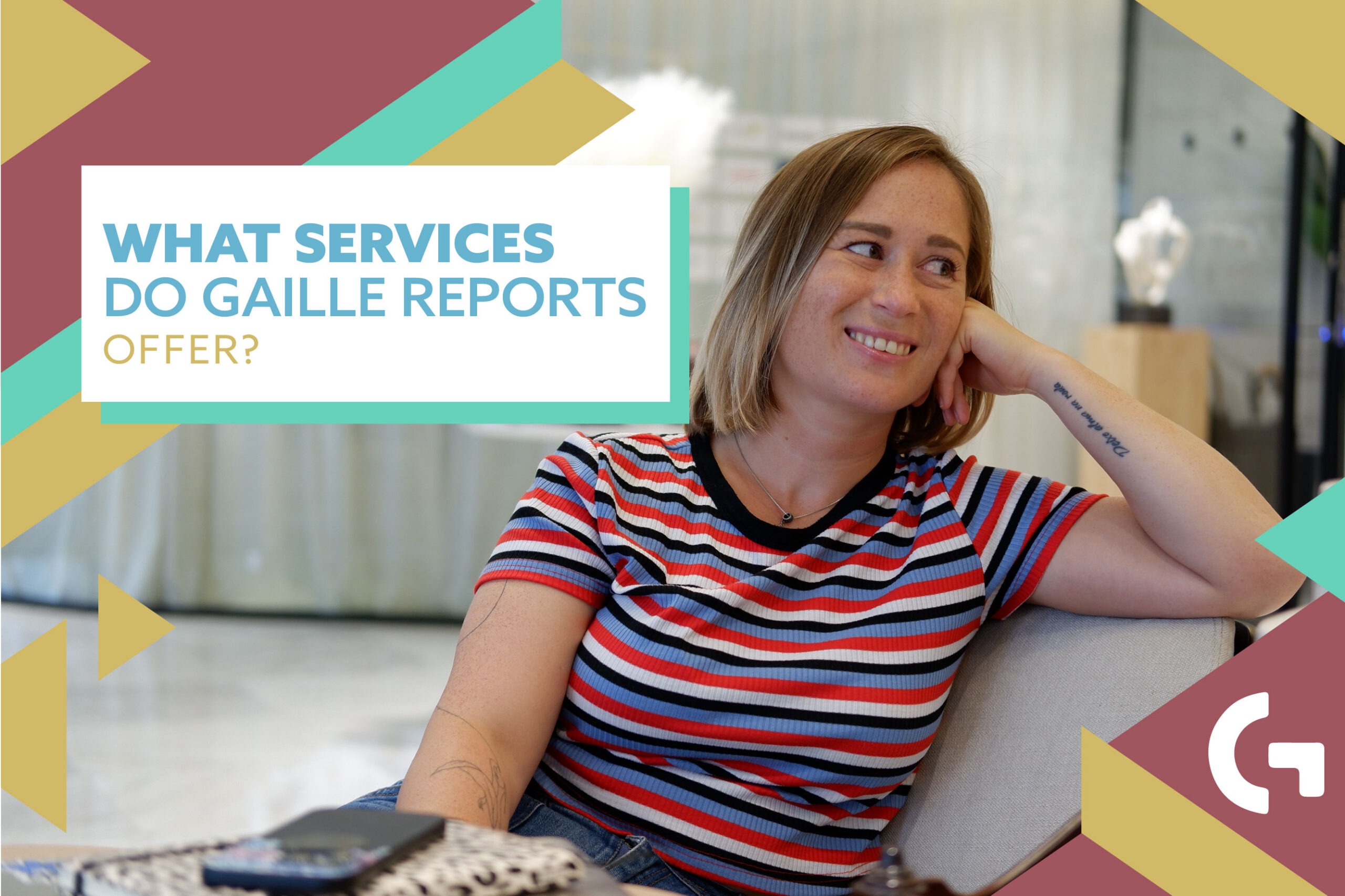 What is the most horrifying day for all the marketers and agency workers? Surely, the first day of each month is so unwanted because the clients are waiting for the reports. Besides all the stress the workers go through and the time marketing reporting takes to be done, a thing that worries the chefs is, obviously, money. At the very first link in Google search "marketing reporting price" I found out that the minimum price for an hour is 50 USD. And it's not automated, so you'll need to pay 50 USD multiplied by X every time you need a report. This is crazy, right?
Or if you are lacking real-time data and have a wrong idea about what is going on with your business?
Marketing reporting automation is a solution
Why don't you try out marketing reporting automation? In Gaille Reports we know how to automate and set your reporting up!
In this article you will get know about:
What is the aim of marketing report automation?
Why do we tend to work with Looker Studio?
What products and services do we use?
What services do we offer?
Report templates
Looker Studio course
Unique customized report tailored to your needs
Why should you entrust our Looker Studio agency with marketing automation?
Ready to work with our Looker Studio agency?
What is the aim of marketing report automation?
Marketing report automation optimizes efficiency by minimizing human error and standardizing reporting formats. With predefined templates and customizable dashboards, marketers can generate reports with a few clicks, eliminating the need for manual data manipulation. Automated workflows ensure consistent report delivery, reducing the chances of oversight or delayed reporting.
The automation workflow is the following:
Collecting relevant marketing data from one or more connected data sources.
Cleaning, transforming and blending data.
Push the blended data to a visualization tool.
Creating reports to be exposed regularly and updating them.
Scheduling the report delivery to the stakeholders or clients
Additionally, automation software can schedule reports to be generated and distributed at specific intervals, providing stakeholders with timely updates on key performance metrics and marketing campaigns. This enhances internal communication and facilitates data-driven decision-making processes.
There are many advantages of report automation:
Report automation can literally save you up to 30% of time on report creation
Improved efficiency and ROI
Improved client experience
What products and services do Gaille Reports use?
In Gaille Reports we work with Google products and services because they can be easily integrated in reports. In particular, we work with Looker Studio, Google Sheets, BigQuery, so everything is done in Google Cloud platform.
Why do we tend to work with Google Cloud infrastructure?
Every product from Google has direct and easy integration with others. In Looker Studio you can easily use free connectors to pull up data from any service provided by Google. It also has an easy-to-use interface and is also a powerful data visualization tool that provides a lot of different types of charts and is constantly improving and developing. Easy to understand interface really saves a lot of time.
Unquestionably, Google Analytics is one of basic and the most used tools in internet-marketing and it perfectly integrates with Looker Studio. Besides this, we frequently use Google Ads, Google Search Console, YouTube, Google AdSense and others.
But now you can check out an article of mine where I tell more about why I like to work with Looker Studio. 
What services does Gaille Reports agency offer?
Being in the business market is very challenging. Small and medium-sized businesses need to compete with big businesses, not having enough resources and workers for it. However, your business or startup will not need an analytics department, if you work with us.
Significantly, the idea of Gaille Reports is to make the experience with data for small and medium-sized businesses, marketing agencies and startups as easy and accessible as possible.
There are dozens of report templates that will take you from 5 to 15 minutes to set up. If you need something special, we make customized automated reports as well.
Contact us and we will help you find a solution to resolve your task in any of the ways possible – help you to choose a report template, create a dashboard tailored to your needs or even teach you how to create a report yourself!
But let me tell you about each of the services Gaille Reports offers in detail.
Report templates
The report templates are the true lifesavers. They are always there for you when you need them, 24/7. You just need to pull up your data and – wow, it's done! It will take from 5 to 15 mins. Making reports has never been this easy!
Marketing report templates are useful because they provide a standardized and efficient framework for creating consistent, professional, and data-driven reports, saving time, ensuring clarity, and enabling easy comparison of key performance metrics across different reporting periods or campaigns.
In our template store there are many templates beloved and needed by our customers, for example: Cohort Analysis Template. LTV and Customer retention. Our Cohort Analysis template is undoubtedly the perfect tool for gaining insight into your customer's behavior. You can use it to compare different user cohorts by month, count lifetime value and customer acquisition cost using data from CRM and various ad platforms.
You may not realize, but cohort analysis is vital for startups and companies. There are various reasons why:
Cohort analysis allows businesses to group users or customers based on common characteristics or behaviors. Startups and companies can use this information to tailor their marketing strategies, product development, and customer support to specific user segments.
Cohort analysis helps in understanding how well a business is retaining customers over time.
Cohort analysis can help assess how the introductions of new products or services impact user engagement, adoption, and long-term value.
Comparing the performance of different cohorts can help startups and companies benchmark their progress and assess whether they are improving over time.
And many-many others! This report is on a sale now, so hurry up and buy it now for the best pricing!
One more popular report template in the store is GA4 and Google Search Console SEO report.
Our report template offers an easy-to-read and comprehensive overview of SEO performance using data from GA4 and Google Search Console. With a focus on popular and landing pages, device and geographical breakdowns, and organic traffic analysis, our template certainly provides businesses with valuable insights into their website's SEO performance. By providing a clear overview of key metrics and performance indicators, our template enables businesses to make data-driven decisions and optimize their SEO strategies.
Find out what report template fits your needs right now – check out the template store.
Looker Studio course
For 6 long months we were gathering and compiling all the necessary information, doing researches in order to prepare the best course in Data Visualization in Looker Studio. Do you want to know if you need the course? Check out the videos about the course that we have on our Youtube channel and make sure we provide the instruction on the highest level!
Chiefly, in this course you will learn to build a dashboard from scratch with knowledge of every element Looker Studio offers to visualize your data. Also, Gala, founder of Gaille Reports and instructor of the course, will share with you tips and tricks that will elevate your skills in data visualization from newbie to pro!
Buying a course in Data Visualization in Looker Studio is a wise investment for several reasons. Firstly, Looker is a widely used and powerful data analysis platform, and a dedicated course will equip you with the skills to extract valuable insights and present data in a meaningful and visually compelling way. Secondly, mastering Looker's data visualization capabilities will enhance your professional skill set, making you more competitive in a data-driven job market and enabling you to effectively communicate complex data findings to both technical and non-technical stakeholders.
This course is perfect for anyone who wants to learn how to use Looker Studio to unlock the full potential of their data. Whether you're:
a web-analyst
a marketer
or you are just craving to gain new useful skills
Besides that, Looker Studio can help you transform your raw data into actionable insights.
Especially if you are a beginner, you definitely should learn an in-demand tool and advance to a new career level, which is essential for most of the large companies.
Unique customized report tailored to your needs
One of the services Gaille Reports offers is customized reports. Customized reports are everything we were starting from. Based on your needs as well as preferences and aims, you can get any marketing report you want. We work with startups and marketing agencies. They need marketing reporting automation to save time, ensure data accuracy, and provide real-time insights that enhance decision-making, client satisfaction, and overall campaign performance. How can we be particularly useful to each of them?
Marketing agencies: we can automate client reporting, giving them a competitive advantage, saving time and resources and increasing their customer loyalty.
Startups: If you are planning another round of investments, you will surely need detailed statistics about your sales and clients – here we are to help you and create a beautiful and easy to understand report. We can calculate LTV, MAU, WAU, and run cohort, RFM and other types of analyzes.
Basically, investing in a customized marketing report is beneficial for your business as it tailors the report to your specific goals, metrics, and audience, ensuring that you receive actionable insights relevant to your unique needs. Additionally, a customized report can save you time and effort by providing a clear and concise overview of the most pertinent data, allowing you to make informed decisions quickly and effectively. Finally, a personalized marketing report can impress clients, stakeholders, or management by demonstrating your commitment to delivering high-quality, data-driven results, which can foster trust and satisfaction.
Why should you entrust our Looker Studio agency with marketing automation?
Firstly, we will help you save money. Working with us you will get data engineering work without a data engineer.
Working with us will save you time because once you order reports setup, you will get your actual data every day.
The tools we use are very flexible and, consequently, provide a lot of possibilities to present your data with great flexibility.
Marketing reporting automation is a solution for everyone and fits for every budget. It will be a useful tool for small companies and freelancers and as a second opinion for big guys.
Ready to work and use the services of Gaille reports agency?
Basically, here is how the workflow with our Looker Studio agency goes:
Introduction call, can be scheduled on the gaillereports.com
Determine details of the project
50% prepayment
Provide access to data sources
Creation of your custom Looker Studio dashboard
Instructions how to use
50% postpayment
If you are willing to automate your reports, don't hesitate to contact us. Let's schedule a call and talk about how we can help you with that.