YouTube Analytics in Looker Studio template overview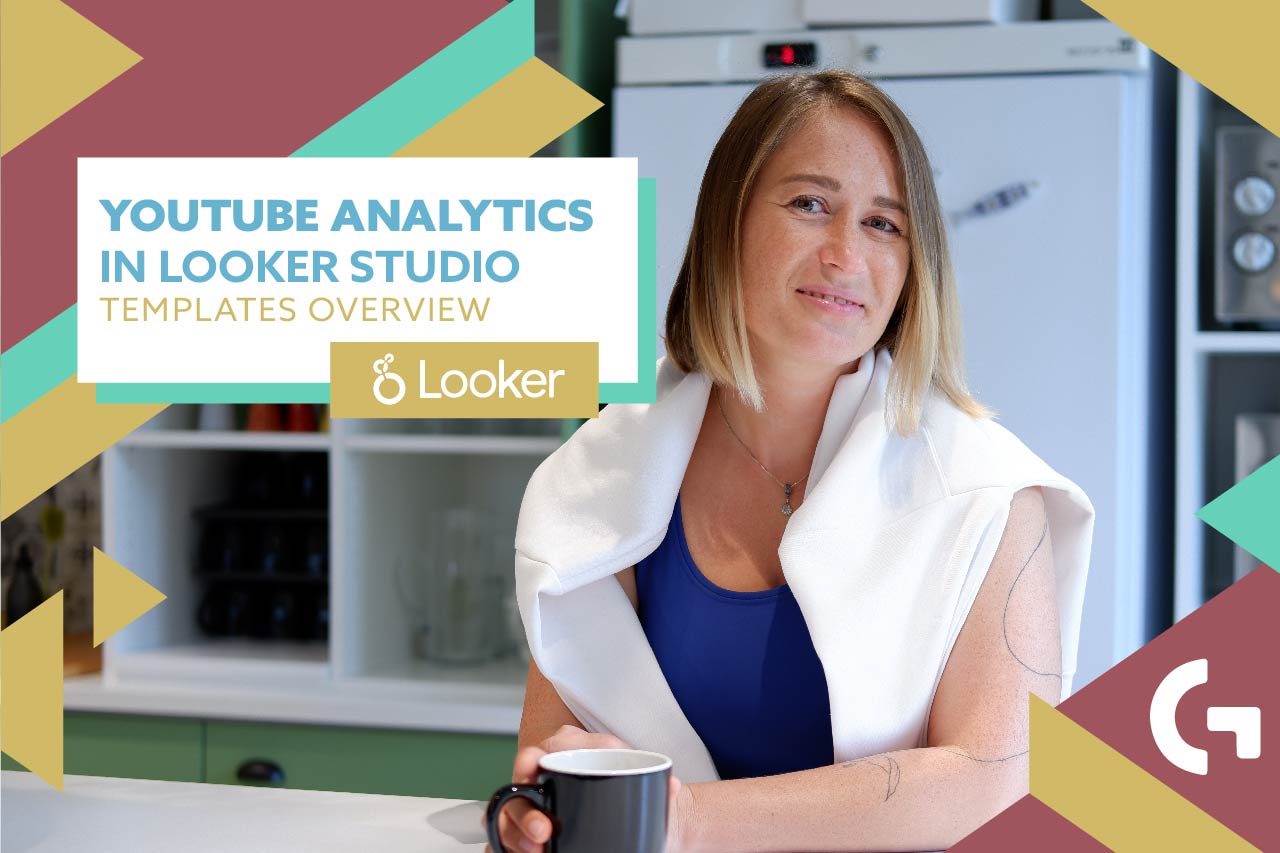 This article is going to be an overview of my new report template – YouTube Analytics based on YouTube and Google Analytics 4 free connectors.

For all the youtubers it will be really interesting and important seeing the stats of their channel presented in a really simple and easy to understand way. Just buy the YouTube Analytics report in my template store and forget about dealing with difficult graphs and unclear tables. This dashboard will give you an extended view on your channel's performance and will be useful for everyone.

Here is a video-overview of this template:
Let's start observing the dashboard!
YouTube KPIs
I tend to start every report with main metrics that are essential and unavoidable. In this case they are Views, Total Watch Time, New Subscribers, Channel Subscribers, Video Likes Added, Video Shares and Video Comments Added. By default, This dashboard shows the data for the last 30 days, although you can change it anytime you want. In the KPI score boxes there are also sparklines that show the dynamics of each of the metrics.
The most popular videos – YouTube Analytics
The next section of this report is dedicated to the most popular videos. Firstly, there is a time series chart that shows the top of your videos. You can add an optional metric to this chart as well.
Secondly, we have a simple auxiliary table that lets us understand the time series chart much better. You can see the Thumbnail of the video, its title and the metrics to each row. Likewise to the previous chart, you can add some optional metrics here. Besides that, there is a Grand total, that may give you a general idea of how, generally, your things are going.
YouTube videos by views and months
This table allows us to see the dynamic of views of each video month by month. I find it a really important thing for your YouTube channel. However, using the above-mentioned optional metrics you can change views to any other metric. There are also Grand total row and column.
Popular landing pages for users from the YouTube
This section is based on the Google Analytics 4 data and using it we can see the activity of our YouTube channel viewers on our website. Fascinating, isn't it?
In this table we can see what landing pages our users visited, numbers of sessions, active users, conversions, average session duration and a bounce rate.
What actions do YouTube users perform on the website?
Filtering by conversions or not conversions, here we get a list of actions the users perform on the website.
What if I need more detailed report?
As I have said before, this dashboard is created only using free connectors. But, in fact, using paid partner connectors, you will get more details, so I believe that the pros are much stronger than cons – it is really worth it. I can recommend you 3 of them:
Windsor.ai – they have almost the same fields as the free connector I've shown, but they have their own template but you will have to pay monthly.
Supermetrics – this connector is more expensive than the previous one but it also provides you a template but it is more complex and is worth every cent. It has a lot of fields and various combinations of charts.
Power My Analytics offers a great template for YouTube analytics. The template consists of numerous pages with lots of data. If YouTube is your income source, you will not regret buying the subscription for Power My Analytics to use this template.
If you are a beginner in YouTube, I really recommend you to try out YouTube template based on free connectors. It will be more than enough for you to have an idea about your channel's performance. If you earn money from YouTube and you can afford paying for subscriptions for partner connectors, you will get a more extended analytics of your channel.
Do you like my YouTube Analytics template but don't know how the templates function? There is a great opportunity for you – subscribe to our newsletter and get a FREE Sales Funnel Looker Studio report template! This way you will make sure how easy it is to work with our templates and you will not have any doubts about purchasing a YouTube Analytics report or any other!